Bitcoin and Ethereum rally continues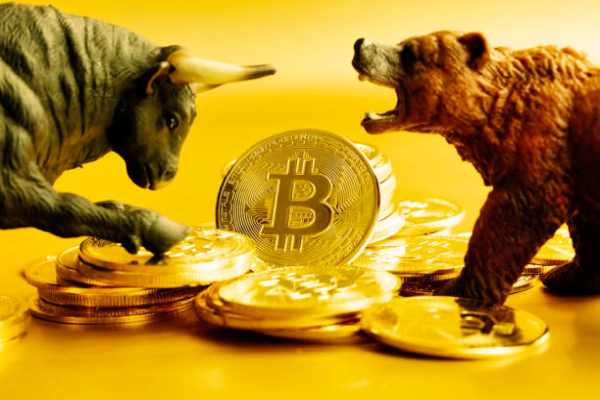 The
Bitcoin
Fear and Greed Index has risen from "extreme fear" to "fear" in just one week. This may be due to the fact that market-moving issues such as the
3AC,
Celsius
and Voyager bankruptcies are now priced in. Also, Tesla's BTC sell-off has not caused any major shifts.
The Fear and Greed Index is a so-called sentiment indicator. That is, it represents the current mood of the market. Data such as volatility, social media sentiment and BTC dominance are used as variables.
Bitcoin's impressive rally from last week's test of the 19,100-18,700 USD support level to the resistance area of 24,300 USD has been followed by profit-taking and a pullback to the underlying boundary plus cross-support (green). The first follow-up purchases (LONG) have already been made.
As long as the activity zone 22,800-22,300 USD provides support, the upward trend predominates. This level is crucial for a current and possible trend change on a medium-term basis.
The first target on the upside is the movement high in the area of 23,800-24,300 USD and then at the resistance at 25,000-25,400 USD. If
Bitcoin
can break out above 25,400 USD, the way is clear (with a possible trend acceleration) to the resistance cluster at 28,600-29,300 USD, where SHORTS are favored.
If
Bitcoin
breaks the support at 22,340 USD, this is a sell signal with a potential price target of 21,700-21,350 USD, where LONGS are again available.
This positive sentiment was further fuelled by positiv
ethereum
news.
Ethereum
co-founder Vitalik Buterin revealed the next steps for the cryptocurrency's further development at the
Ethereum
Community Conference (EthCC) in Paris. The long-awaited merge upgrade is scheduled to take place on 19 September. This will switch the consensus mechanism of the blockchain completely from "Proof of Work" (PoW) to "Proof of Stake" (PoS). This will reduce the energy consumption of
Ethereum
by more than 99 percent.
By the end of this roadmap, Eth

ereum will be a much more scalable system. Ether

eum will eventually be able to process 100,000 transactions per second.

- Buterin
Currently, the capacity of the
Ethereum
blockchain is limited to 10 to 20 transactions per second. This slow transaction speed and high fees have caused criticism across the industry in the past. This has also led to the emergence of newer blockchains such as Solana, Cardano or Polkadot, which have tried to take market share from Ethereum.
If Vitalik's prediction of 100,000 transactions per second comes true, it could revolutionize the blockchain industry - the price increase could therefore continue and be sustainable. Freddy Zwanzger,
Ethereum
responsible at the cryptocurrency infrastructure provider Blockdaemon, believes that
Ethereum
will maintain its leading position in the cryptocurrency ecosystem in the coming years due to its usefulness as a smart contract platform and network upgrades.